The wireless industry has been buzzing around Google's much anticipated cell phone service. Today, Google officially announced Project Fi, a service with the hopes of prodding carriers in the US into making service less expensive and faster.
Google is taking the opportunity to introduce "new ideas" and "to push the boundaries of what's possible."
The service is based around the networks of T-Mobile and Sprint, allowing subscribers to use either either network. Project Fi phones will select a network based on whichever signal is stronger. Currently, the service only works with Google's Nexus 6 phone, but we might see more phones added in the future, although Google has stated that it has no plans to do so.
WiFi Calling
But in addition to using traditional cellphone networks to carry the calls, Project Fi will allow you to use any WiFi network as an extension of the cellphone network; calls and texts will be routed over WiFi when you're connected to one.
This service is not unlike what is offering by T-Mobile in the US, or EE in the UK, both of which allow users to use WiFi networks to place calls or send texts.
"As you go about your day, Project Fi automatically connects you to more than a million free, open wi-fi hotspots we've verified as fast and reliable," Google said on its blog.
"Once you're connected, we help secure your data through encryption. When you're not on wi-fi, we move you between whichever of our partner networks is delivering the fastest speed, so you get 4G LTE in more places."
Customers will also be able to use their computer to text and call from their cellphone's number.
Data Refunds
The search giant will charge users a $20 base fee, which includes unlimited calling and texting. Each gigabyte of data will cost an additional $10 per month, which applies while in the US and internationally.
But where things get interesting are the data refunds: Google will refund you for any data you didn't use at the end of the month.
"Let's say you go with 3GB for $30 and only use 1.4GB one month. You'll get $16 back, so you only pay for what you use," the firm explained.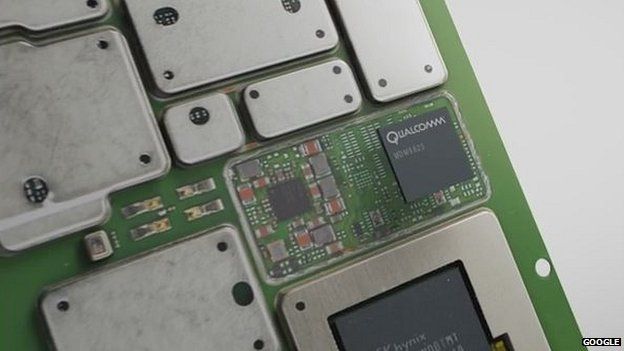 The service will only work with all existing models of the company's Nexus 6 handset, requiring only a new SIM card to be installed. Google has said the cell phone's hardware has been designed specifically to connect to a variety of different cell phone networks, domestically and abroad.
Since changing networks can impact the phone's battery life, Google has said that it will only do so when is absolutely necessary.
T-Mobile CEO John Legere has commented on Google's service: "Project Fi is going to make people think differently about wireless—and I love that. Anything that shakes up the industry status quo is a good thing—for both US wireless customers and T-Mobile." T-Mobile is a company known for shaking up the wireless industry with its UnCarrier initiatives.
While this service is Google's first venture into wireless, it is its second move into telecom. With Google Fiber, which provides gigabit speeds for a low price, the company is already pressuring cable companies into providing cheaper service with higher speeds, which creates more competition in the industry.
Project Fi is available in most of the US, but for now is only be invitation.