Daimler, a German auto group, is leading the way with its self driving trucks, with its new fully licensed 18-wheel-semi-tractor trailer that can drive itself.
Self driving cars aren't exactly a new concept, with several car companies (and Google) trying to put their driverless technology on the road. However, trucks, unlike passenger cars, operate on an open road, and do not often have to go through urban areas. This actually makes it easier to design a driverless truck, not to mention that trucking companies have a big financial incentive to push this technology.
Daimler says that its new self driving rig "promises to unlock autonomous vehicle advancements that reduce accidents, improve fuel consumption, cut highway congestion, and safeguard the environment."
The truck was tested extensively in Germany, with over 10,000 miles driven without driver intervention. The Nevada Department of Motor Vehicles granted it a license to drive on public roads in Nevada, after going through extensive testing.
Regulatory Roadblocks
Regulations are one of the major setbacks for autonomous vehicles. Autonomous trucks are not very useful without a majority of states approving the technology. Therefore, we will begin to see autonomous trucks becoming more standard once it becomes viable for them to be used for inter-state commerce.
"We need more than (a few states) and it will take some time," said Daimler board member Wolfgang Bernhard. He says that while they haven't seen any customer interest yet, they expect to get some orders once regulations improve.
Europe, a continent who is fond of using trucks for commerce, is working on legislation to establish test routes for these trucks. Although it will take time, Bernhard believes that the "regulatory environment can be done in the next five years."
High Tech Equipment
The truck's self driving features are powered by a forward facing radar, a stereo camera and Daimler's adaptive cruise control. In fact, many of the features found in the "Freightliner Inspiration Truck," as it has been dubbed, is already found in Daimler's current rig, the Freightliner Cascadia Evolution.
The radar unit is located in the front bumper of the vehicle, scanning the road ahead with short range and long range components. In the long range, it scans ahead 820 feet in the distance, with a narrow 18 degree field of view. In the short range, it scans 230 feet ahead but with a wide field of view of 130 degrees.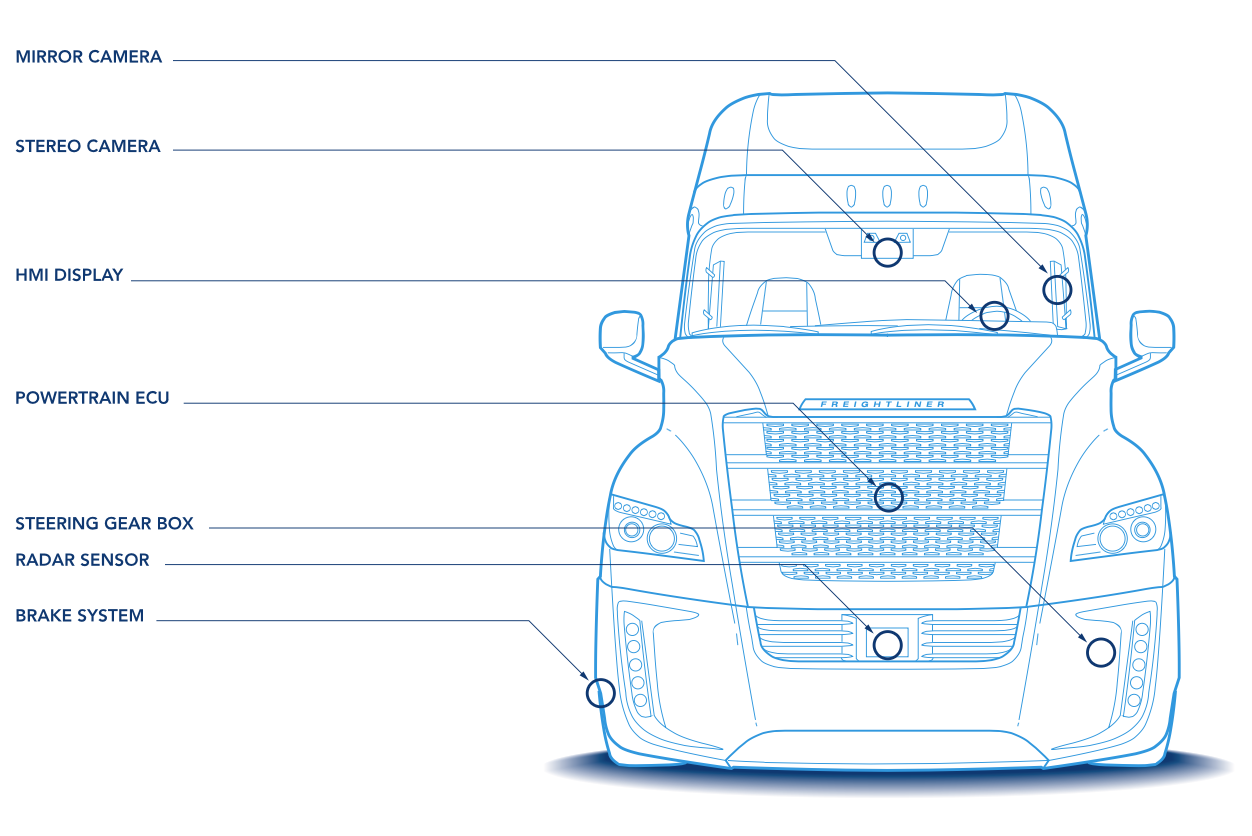 Tucked behind the upper windshield is the stereo camera, which is a fancy way of saying two cameras used together for depth perception. The cameras are very important for autonomous driving, as its data are used to detect lane markings.
Putting the various systems together, the Frieghtliner offers autonomous lane stability, collision avoidance, speed control, braking, steering, and of course an advanced dash display.
"Putting the Freightliner Inspiration Truck on the road is an historic day for Daimler Trucks and the North American trucking industry," said Wolfgang Bernhard, a member of the Board of Management of Daimler AG Daimler Trucks and Buses. "Our team has done a marvelous job in bringing this breakthrough technology to the road."