As a millennial, fresh out of college, I never knew the pain of missing my favorite show. I knew that, worst case, I would be able to go online a few days later and get caught up before the next episode eventually appeared. Even in those days before YouTube, I was able to look up and watch Ed, Edd, 'n Eddy episodes.
Fast forward some years later, and now YouTube is a core part of our lives and several companies are trying to integrate the experience into our living rooms. An Android TV box is something I firmly believe should have a place in every home. More specifically, I have my faith placed in the Amazon Fire series.
Amazon Fire TV Review

The Amazon Fire TV series is available as either a stick that simply plugs into the HDMI slot and is forgotten about, or as a set-top box that must be powered by a wall socket. The difference between the two is primarily their computing power. While the stick houses a powerful enough processor to simply run apps like Netflix, YouTube, and some web browsing, the Fire TV Box contains a dedicated computing unit which enables it to run much faster, and even render graphics. The stick is much cheaper than the box, and both have most of the same features; the new 2016 edition of the Fire TV series has a voice search built in, which is remarkably accurate and useful.
The Fire TV series allows for other Amazon hardware to be mirrored on screen. I was able to mirror my old 2012 Kindle Fire HD 8.9" and my roommate was able to mirror his new 2016 6" kindle with no issues. This can be useful for showing things such as slideshow presentations, showcasing how an application works, or pulling up a website. There was very little latency in the transmission onto the television, despite a wireless connection between the devices.

It's the Amazon branding that makes this device stand head and shoulders above the competition. Amazon is everywhere these days, and I would bet my last dollar that you probably have an Amazon Prime account. Amazon is a name synonymous with ease of access in the online marketplace. Prime not only offers free shipping, but free music, television, and so much more. Amazon Coins offer a way for parents to control their childrens' spending on apps like an allowance system, as well as offering a rebate for in-app purchases. FreeTime allows for parents to control their children's' schedule remotely, allowing for applications to only be accessed during certain times of the day. Amazon has such an amazing inter-connected network that it's a wonder they don't offer more services, and all of them offer the benefit of saving or returning some value to the consumer.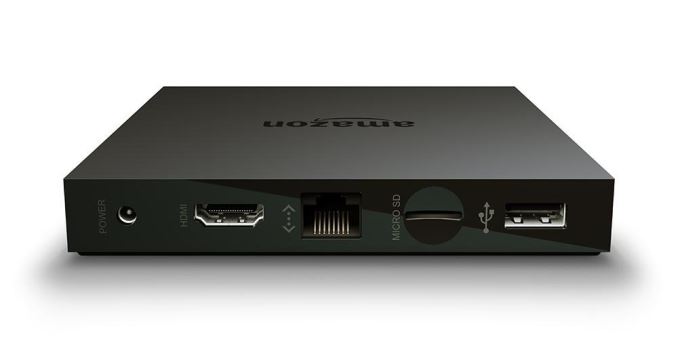 Amazon Fire TV Tech Specs

The Fire TV is a powerful little machine, housing two dual-core systems, one of which runs up to 2.0 gHZ and the other runs to 1.6 gHZ. The Fire TV has its own dedicated graphics unit, which really shines on the interface due to the constant animations. There is an 8GB internal storage, which can be upgraded either by inserting an SD card into the SD slot or by adding a flash drive storage to the USB port on the back of the Fire TV. The Fire TV's USB port also natively supports some gamepads, as I was able to plug in my wired Xbox 360 controller and use it to not only control the home interface, but also use it in applications and even play games with it. However, a wireless gamepad is available directly through Amazon, which enables up to four controllers to be plugged in at once. This can be great for emulation, or even some of the games on the Amazon marketplace which are exclusive to the Fire TV (such as the heavily marketed exclusive Sev Zero). These controllers connect through Bluetooth, which of course allows for other Bluetooth accessories to be connected to the Fire TV. The remote that comes with it is not bluetooth, and is custom-paired with each set top box or stick. The Fire TV is capable of outputting at 4k resolutions, and is the most consumer-friendly Android TV box on the market.
On the back of the Fire TV sits an HDMI port, a DC jack (required to power the box), a powered USB port, 10/100 Ethernet port, and a microSD slot which allows for the storage to be upgraded.
Amazon Fire TV Conclusion

Excluding my obvious answer of "everyone," I believe that anyone who has a legitimate interest in cord-cutting and learning more about Android should invest in this box. The Fire TV is available at $100. The interface of it is extremely easy to use and looks great on the television, giving more of a media center glow instead of the TV guide channel type you may get from other Android TV boxes. The fact that it comes with a dedicated remote is a real boon too.
Of course, with Android, you also get the ability to side-load applications, allowing the Fire TV to download apps that are not natively available on the Amazon marketplace; the big one for me was Kodi. Side-loading applications is no issue for this Android device, as with most Android devices, so that is something to also keep in mind.
If you are looking for an amazing all-in-one media center Android top box, the Fire TV would be perfect for you. Amazon's marketplace is based around giving value back to the consumer, so it is possible that with enough use, you may actually profit off owning it. Of course, you would get paid out with Amazon Coins, but it's better than nothing.