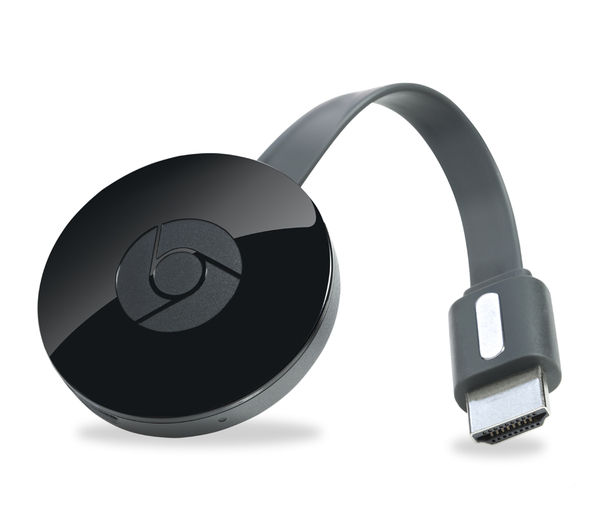 Google's Chromecast is the simplest casting device one would find on the market today. It's easy to setup, easy to use and generally perfect for the average content viewer. With Chromecast you can "cut the cord" and stop paying for TV. And the best thing? It costs $35. Ever since I got my Chromecast I stopped paying for TV. Let me tell you, this is the best $35 I spent in my life! It's so good I bought two! One for each room with a TV.
The best thing about Chromecast for me is, I don't need to learn anything. The remote is my phone. I hate getting a new remote and then having to study and learn all the things I could do with it. I need to know all the cool tips and tricks when I get a new piece of technology. That's why Chromecast is absolutely perfect.
Okay, so I've talked a lot about how Chromecast is the best thing ever and anyone sane should get it. Now you ask yourself: "What's the big deal?" THE APPS. Oh God, such a wide variety of awesome apps, from games through news and media. There are so many apps you should try. But, that's not what we're here for. We're here for the best apps you can get. It's going to go down like this. Starting with the awesome number 5 going all the way through to the perfect number 1. I'm going to list the pros and cons for each app so you can decide what's the best for you.
#5 – Google Cast
Ahh, the obligatory Google Cast app. This app allows you to setup your Chromecast. So, you kind have to get, at least for the setup. However, it is the hub of all Chromecast compatible apps. That means, this app contains all apps, APPSEPTION! The first thing you see when you open the app is all the new stuff you can do with Chromecast with the apps you have for your phone, which is awesome. You can manage and control your Chromecasts through it. That means – no matter what app you're using to cast, you can always pause the media and mute it. This app also gives you access to offers available for your Chromecast, such as sweet deals and free gifts. But wait, there's more! This app allows you to mirror your screen to your TV. Everything you do on your tiny phone appears on your giant TV. You'll never text the same again. Basically, if you want the full Chromecast experience, get Google Cast.
Pros:
Allows setup

Fast access to all of your Chromecast apps

Simple layout

Takes up very little space

Free
Cons:
Doesn't offer screen mirroring on older phones

No volume control in the Chromecast settings section, only mute option

UI is not as dynamic for older phones
#4 – Videostream
Videostream is this very simple app. It has one simple function – stream local content from your computer. You add the Videostream extension on Google Chrome, tell it where your media is, and voilà – stream local videos from your computer. You might think, "what's the big deal?". Well, it is extremely hard to find ways to stream local content from your computer to your Chromecast. Google Chromecast is all about Internet, so any files it'll stream would be from a server. That's why the guys (and cat!) at Videostream are doing extraordinary stuff. The beauty of Videostream is it's simplicity, from the moment you decide you want to install Videostream until the moment you're sitting at your couch watching your local content, about ~5 minutes pass. The simplicity of Videostream is what makes it stand out, the remote on their app is the remote you wanted your whole life and didn't even know. Exactly what you need, nothing more and nothing less. Another great quality that Videostream has is, it transcodes videos incredibly fast. See, Chromecast has very specific types of files it can stream with very specific parameters,.so when you need to stream, say an MKV file (which Chromecast does not support) Videostream will transcode it instantly so you could watch it. It's a great app if you're the kind of person who has movies sitting on your computer waiting to be streamed.
Pros:
Simple UI

Fast installation

Free

Fast transcoding
Cons:
Only local content

Requires a computer with Google Chrome
#3 – YouTube
Good old YouTube, we all know what it does. Whether you want to know how to do taxes properly or watch cats play pianos, it's the place for you. YouTube on Chromecast offers a couple of cool features. You can choose a video and have it play on the TV while you browse your phone and you can add videos to the queue. The queue, now that's the jewel of YouTube with Chromecast. Anyone who is connected to your Wi-Fi can add YouTube videos to the queue, it does not disturb the the video that is currently playing and the videos keep playing, one after another. No more fighting over who chooses the videos to watch. Now everyone, friends or family, simply connect to the Chromecast and add videos of their choice to the queue.
Pros:
Easy to use

Fast start up

Continues video playing

Encourages multi-user activity

Free
Cons:
Anyone can delete videos off of the queue

Volume control available only using phone buttons
#2 – Plex
First, I have to say, Plex was very close to close place. What Plex does is similar to what Videostream is doing. It takes local content, transcodes it and streams it. But that's not all, Plex takes your movies, TV shows and music, and organizes it. It adds posters and metadata and makes it look extremely professional. To install Plex, you have to install a server on your computer and tell it where all your media is. You can add add-ons to your Plex media server. That is a big advantage over other streaming apps, I use add-ons that download subtitles automatically for my media. Another great thing you can do with a Plex media server is, add channels to it, then, you don't even have to download media to your computer, you can just watch videos from your channels. There is no doubt, for those of you who download content, Plex is an amazing fit.
Pros:
Free

Good remote interaction

Allows add-ons

Very customizable

Not only local content, channels available
Cons:
The server is not easy to setup

Requires a computer with good processing power for the transcoding
#1 – Netflix
Number 1 – good old Netflix! This app is a must-have. It has the best UI, best catalog, easy-to-control remote and several more cool features. Netflix has the biggest catalog you could find (legally), and you can get it at as low as $8 a month. You can control the remote from the lock screen (Android) which comes really handy. The video you're watching will never stop to buffer because of the dynamic system Netflix has. Also, Netflix offers subtitles. This app is the most straight-forward one that I presented in this article. For all the people who are not very tech-savy and for the people who are – this is the app for you. Get it!
Pros:
Good UI

Large catalog

Easy setup

Subtitles support

Cheap
Cons:
Paid service

Up to 1/2/4 people playing simultaneously (depends on your monthly plan)

No way of bypassing Geo-blocking with the service on Chromecast
With the right apps, Chromecast could be the best thing you bought in your life. I highly recommend checking the aforementioned apps, I use them daily. It's important to note that Plex and Netflix were extremely close in the battle for first place but Netflix is just more simple than Plex. Not a lot of people have the energy to setup and maintain a running Plex server when they could just pay ~$10 a month to get everything they want.
To conclude, Chromecast is a great device. It enables us to watch content on our TV. With Google Cast, Videostream, YouTube, Plex and Netflix – your Chromecast experience will never be better.